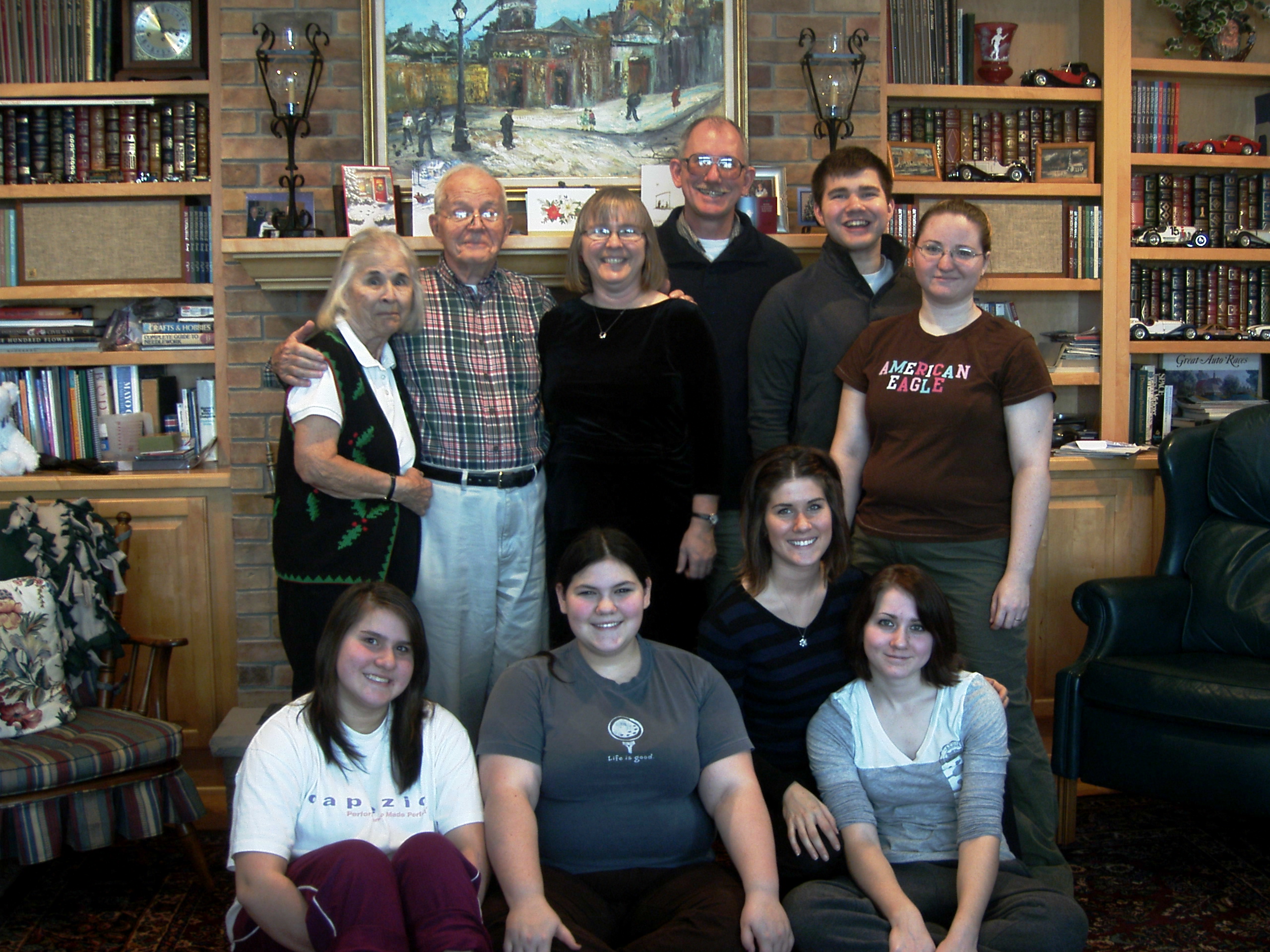 Benson 2010
Here's a catch-up note on the Benson's for 2010-- Why did I wait until February of 2011? I wish I knew...
In 2010, everyone but Jim turned an EVEN age... Janet turned 52, Jim turned 51, Miriam turned 24, Maggie turned 22, Jimmy turned 20, Michal turned 18, Mary turned 16 and Martha turned 14.
The DVD library expanded to another whole shelf again this year (we must really like movies!). Most of the new arrivals are actually Blue Ray discs. But shelf space is being saved by Jimmy's Netflix account which we now have configured on the Wii!
Cars
This was another "bang up" year for cars at the Bensons. Some of the details will come out below, but suffice it to say "everyone is safe"... the cars took all the damage and God took all the Glory.
Janet
Janet is still the busy, home-schooling, baby-sitting, seam-sewing maniac she always has been. Janet still volunteers taking care of kids and babies for our church ESL program on Tuesdays and for Sunday School. Although Janet wasn't the "official" point-guard tailor at the dance studio for much of this year, the recital workload required her to come out of retirement and burn midnight oil at the serger and sewing machine pedal a couple times. Janet uses her now profuse (not!) free time to worked with Mary (#5) and Martha (#6)-- our last two home schoolers. Janet's parents are reaching the age of childhood too, keeping Janet equally split between the Bensons in South Rochester and the Hitchcocks in North. Oh, and Janet is also the prettiest Score-Keeper at the monthly Rochester Youth for Christ Bible Quizzing tournaments-- luckily, she is my Score-Keeper.
Jim
Jim's "hands-off and let the family run itself" attitude is working pretty well with three girls, Jimmy and a wife sharing the same house (Maggie moved to the Twin Cities-- more below, and Michal took the Maggie spot in the basement at Janet's Parents-- also more below). Jim volunteers a lot at church as a deacon, assistant treasurer, 3rd-5th grade Sunday School teacher, Wednesday Kid's Club leader and webmaster (http://ebcrochester.org)-- about the same as last year for those keeping track. Outside of church, Jim *still* is working with Rochester YFC Bible Quizzing as a Quizmaster and webmaster (http://rochesterbiblequizzing.org). Since Jim really, really likes web stuff, Jim manages a couple other sites too: http://baptisthospitalityhouse.org and http://emmanuellao.org-- stay tuned since there may be more on the way. And Jim tries not to let his full-time job at IBM interfere with the fun.
Jim's sister Missy was diagnosed with ALS this year and since the trade-in value on her 2000 Saturn LS was peanuts, Missy offered the car for those same peanuts to the already car stressed Benson household. The ninth member of the Benson family, our 1998 White GMC Safari van was expiring... using lots of oil, poor gas mileage, poor performance and besides, Janet had grown to irrationally fear the poor vehicle after last year's tire mishap (read about it here). It was hard to part with our faithful family steed-- it carried all eight of us to Washington, DC, The Black Hills in South Dakota, Yellowstone and Grand Teton Parks in Wyoming, Ouray, Colorado, Sedona, Arizona, Grand Canyon, Hoover Dam, Meteor Crater, Tombstone, Wisconsin Dells and even San Antonio, Texas for family vacations. I get choked up even today thinking how one box of steel on rubber wheels could become such a vital, historical Benson family memory. I hope I fulfill my purpose in life as well as that lemon of a maintenance-nightmare Safari dieing at age 278,000. Jim and Janet jumped in the car and rode to Michigan in September to pick up Missy's very nice sedan. Missy isn't doing well, but grouping all ALS victims in a bunch, her good attitude, family support, co-workers at the bank and God's mercy are keeping her at the hopeful top of her class.
Miriam
Miriam bought her own car with her own money in mid April-- a green 4-door Saturn SL2. Nice car and seemed to get a good deal for it. A couple weeks later she successfully replaced break pads on all four wheels and put new rotors on the front (with some help from dad). Yet another week later and she flushed her cooling system and replaced the thermostat almost completely by herself. Sadly another two weeks later on May 14th (beware the ides of May), Miriam was driving south on highway 61 between Hastings and Redwing when another driver attempted to cross four lanes of traffic while Miriam was going by at 55 mph. Miriam's car was hit directly in the driver's side door, peeling most of the sheet metal off the left side of the car and chopping the first foot off the front of the other car. Besides a big bruise and raw skin where the air-bag opened up against Miriam's right forearm, no one was seriously hurt, but the car never made it farther than Red Wing-- totaled :(. Thank God for His sovereign timing... another fraction of a second earlier and it would have been a head-on collision with likely no survivors. Didn't I say "bang-up year for cars"? Miriam wasn't at fault, but Progressive insurance helped out a lot to get the red-tape minimized and see that a proper settlement was reached with the other insurance company (no, this is not a Google Ad). Miriam did her homework, patiently looked for a new vehicle and viola, she's the proud owner of yet another 4-door Saturn SL2!
Besides the big car top story, Miriam continues to work hard at school (*still*) and Wal-Mart. Miriam has almost... almost... graduated from college with a double major in Business and Accounting. It has been a hard slow road since she insists (and probably rightly so) in paying her way through school without student loans. The course schedule at Winona State has not been friendly to Miriam's graduation goals, offering classes she needs at time she can't fit in... so it's one more semester again. Winona is too far to walk, so Miriam commutes to classes making school days long days.
As was mentioned before, Miriam is a well respected and sought-after Quizmaster not only at our local league, but also at the regional Chicago Tournament and the always fun Crown College Tournament. Keep it up Mim! She also breaks out Sunday mornings and runs the powerpoint for worship at church.
Maggie
After struggling though a couple odd jobs and groping a little for life direction, Maggie was accepted at the Art Institute of Minneapolis and moved to the Twin Cities in March to live as Shawna Hermann's roommate in Richfield. She quickly got a job at a Caribou shop near the airport. To get to school, Maggie drives (or rides her bike) to the Mall of America and hops the fast commute train, riding it completely to the other side of Minneapolis, a forty minute ride one-way. I promised Maggie a 20$ gas card is waiting here at home any weekend she wants to visit (so far she's taken home several). We've even visited her in her natural habitat and it is easy to see why she stays up in the cities-- it's fun! Maggie's boyfriend, Will, decided that absence doesn't make the heart any fonder and moved to the cities also to work and go to school.
The Art Institute is on a "quarter" schedule so the tuition bill seems to bless our mail box just after the money runs out. Hopefully I can get ahead of the game next year. Maggie has an XBOX and plays a little Halo with Will from time to time.
Jimmy
Jimmy, our living and surviving post cancer victim, and post kidney transplant recipient graduated from Mayo High School this year. Not top in his class, but still top in "class". Jimmy landed a job at the big Weherenberg Movie Theatre south of town at the new Shops on Maine business and shopping area. At nineteen, they needed someone who could legally dispense beer to the patrons. That's not all he does, but seems to enjoy the work and the occasional free movie with a friend. I've even been his friend on a movie. Jimmy's room has collected a few warn out movie posters... maybe in 60 years they'll be worth something to a collector.
Jimmy's pet iguana Ozzie celebrated 10 years of life in the Benson home by reaching 6 feet in length. Mostly calm and passive, vegetarian Ozzie began to show a more aggressive than usual attitude later in the year, having us all quite worried that we'd be eaten in our sleep (we all look a lot like vegetables at times). How can a lizard be aggressive? One kick and the iguana would be a new ladies handbag, but still somehow the hissing, tail snapping and broadsided evil-eye posturing can intimidate even the most hardened Indiana Jones. An iguana expert on the web responded to my email and attributed a lot of the aggressiveness to either age or hormones which can flair up for a couple months around the mating season. For now the jury is still out and we still have an iguana, but Ozzie better watch herself since this house may not be big enough for all of us soon.
Jimmy tried the "community college" thing, but ran into beau coup financial hassles getting aid. The classes didn't work out as hoped and it looks like college will have to wait until the wind fills the sails again.
Jimmy's XBOX has an NetFlix app and when we found we could use his account on our Wii, NetFlix has become nearly tied with DVD/Blue-Ray watching in the family room. Where else can you watch 60+ episodes of Phych or 8 seasons of Monk? NetFlix has way too many dirty movies to make it a family friendly recommendation, but for older and adult kids on the edge of being mature, the entertainment about pays for itself. You know you are starting to depend on NetFlix when Jimmy misses paying his bill and suddenly we can't satisfy that craving for another Monk episode.
Jimmy was also the first in the family to enter into the Android phone world. We've seen a few iTouches and iPhones already from the tech savvy end of the family, but Android is so un-Apple that it is very cool (I actually started shopping for an Android Tablet, but can't justify the price yet-- maybe my ancient Palm PDA will die soon and help me across this decision).
Michal
Michal also "graduated" this year, but on a less formal standing that Jimmy's public high school ceremony. Michal took the part-homeschool, part Post Secondary Enrollment Option graduation path and overall met requirements for a Benson diploma. Neither Jimmy or Michal wanted a big to-do to celebrate, but both managed to get a few gifts to remember the special occasion.
Michal moved out to the Hitchcocks to live in their basement "apartment" (Maggie's old spot). The wonderful space and freedom spoiled her immediately. Suddenly there was room for books (classics), DVD/Blue-Ray titles and even some really cool movie promotion paraphernalia. Open the door to her bedroom and a five-foot marketing shelf for selling "Sherlock Holmes" greets you. Michal's classic book collection outgrew the foundation shelf on the west room perimeter. Grampa bought her a real live bookshelf for the books.
Michal continues to be the Pizza Princess at Papa Murphy's take-home pizza shop. What would we do without discount price pizza? I shudder at the thought.
Mary
Mary is still our avenue into French classic culture and street gangs since she continues to be a pretty darn good en-pointe ballerina and hip-hop rap dancer. Pressed, she'll also show you some classy lyrical, jazz, tap and contemporary dance moves. The road from the Benson house and the Allegro Dance Studio is well warn from over 8 years o dancing lessons. Mary is a beloved face at the studio and in dozens of homes and churches where she continues to supplement her meager allowance with babysitting gigs.
Mary was driving home from Allegro on May 1st in the non-student driver car, our new family Toyota Sienna, when an older woman drove out in front of Mary. Mary hit the brakes and swerved a little, but still managed to crash into the other car right at the driver's side door handle. Mary wasn't hurt and no air bags exploded, but the other woman was taken to the hospital complaining of a hip injury. Though the front of the Toyota looked awful, it was still running and slightly drivable following the impact. The insurance company didn't agree however and totaled the vehicle, sending me an $8,000 check for a car I paid $6,000 for. As luck (or of course God) would have it, the same place where the Toyota was towed to (Viking) also just took in a Toyota Sienna on trade and we had a $6,500 replacement exactly two weeks later.
Martha
Martha's claim to fame still comes in several colors: she's a top-notch cook specialising in baked treats and cake decorations; she's the baby-sitter's baby-sitter requested by name by children too young to even say "Mama"; and Martha can play a clarinet without a squawk or a honk-- a feat that I find impressive since I fancy myself as a clarinet lover. GO MARTHA!
Jimmy wanted a "droid" so badly that he dropped his at&t phone on me in early May and got his own phone account at Verizon... Martha didn't mind because that meant that she inherited a hand-me-down cell phone! I've tried to be fair as a father and not provide cell phone coverage to children too young even to learn to drive, but Martha was dealt a great hand... we justify this unfairness, rationalizing that her baby-sitting business needs a commercial phone account for setting up appointments :)
God Bless Everyone in the coming year!