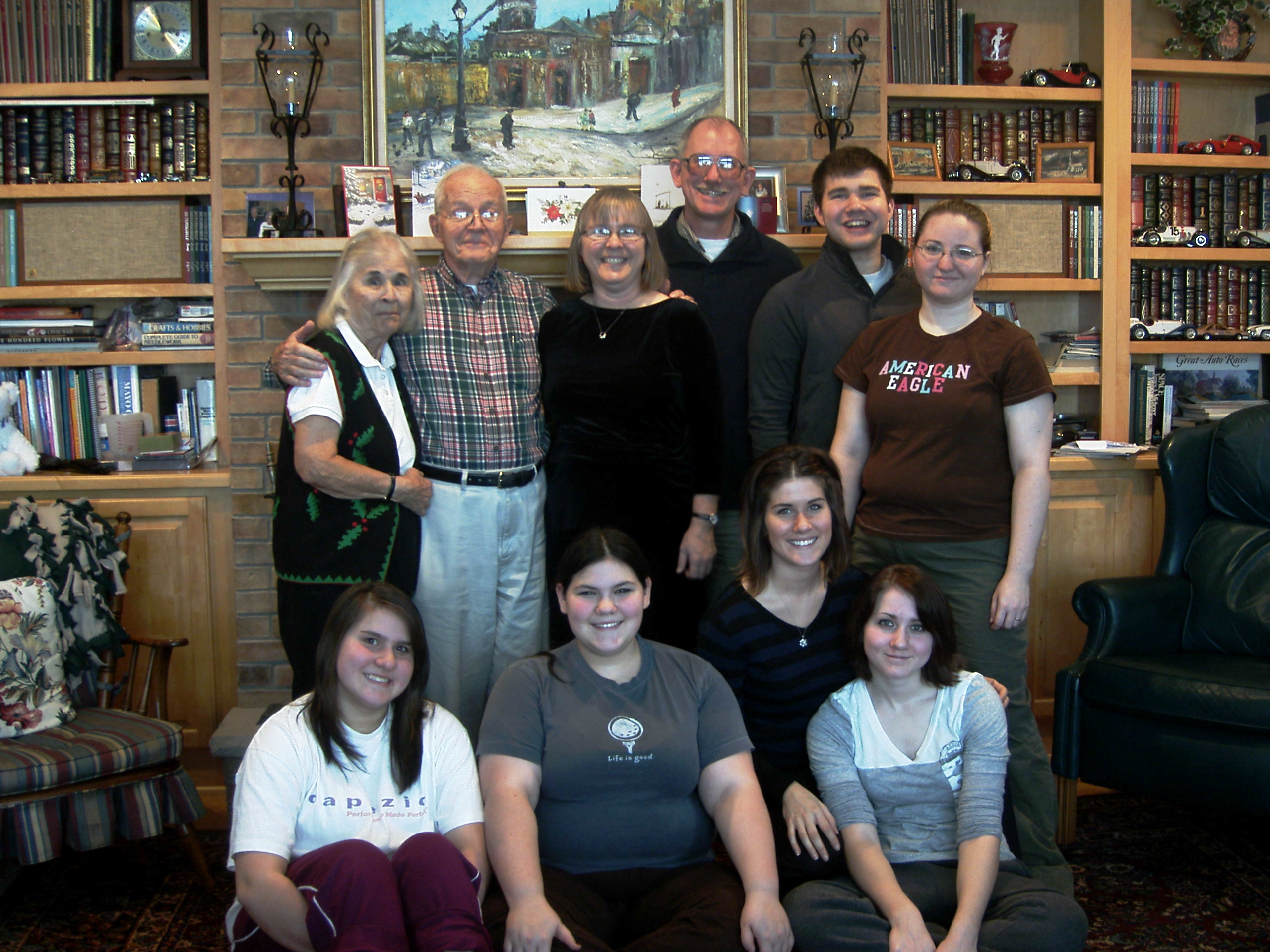 Benson 2009
Here's a catch-up note on the Benson's for 2009--
In 2009, everyone but Jim turned an odd age... Janet turned 51, Jim turned 50 (Yes the BIG five-oh), Miriam turned 23, Maggie turned 21, Jimmy turned 19, Michal turned 17, Mary turned 15 and Martha turned 13.
The entertainment room picked up a new Wii Fit and a Dance Dance Revolution pad. The DVD library expanded to another whole shelf and a blue-ray player was purchased at a steep discount on Black Friday...
Cars
Due to some fancy driving, our late model Dodge Caravan met a tree in a snow storm (no one was hurt). That van went home to be with the Ford and was replaced with a "this price is too good to be true" Chevy Venture that promptly over-heated, blew a headgasket and became a liability. The Venture went home to be with the Ford too and a Toyota Sienna lives in the left side of the garage now. My bank account has developed an allergy to used car lots. Jim was driving the 1998 GMC Safari van to Albert Lea, Minnesota when the driver's side front wheel came off and rolled down the interstate at 70 MPH... thank God for His protection. The van came to a stop safely beside the road, the tire was bolted back on and the van towed home, ready to do it again (after a fresh set of lugs)! Janet discovered she has an irrational fear of white GMC Safaris.
Janet
Janet kept busy as a never-home, stay-at-home mom (alway driving someone somewhere). Janet volunteers taking care of kids and babies for our church ESL program on Tuesdays and for Sunday School. Janet also worked like crazy as a tailor/seamstress for Mary's (#5) dance program (a BIG spring recital and a HUGE Christmas Nutcracker performance). She was constantly behind a sewing machine or serger. Janet also worked with Mary (#5) and Martha (#6)-- our last two home schoolers. Janet spent a lot of time practicing her harp this year since she was asked to perform for the "Sugar Plum Fairy Tea" sponsored by Mary's (#5) dance program. She also harped her way through our church's Christmas Eve service, providing the accompaniment for a dozen or so classic hymns of Christmas. Janet is loving daughter to Frank and Maxine who live here in Rochester, so she spends a lot of time at their home being nurse and daughter-mother. Janet doesn't have an iPod :).
Jim
As I mentioned before, Jim turned the BIG FIVE-OH this year, but still manages to act younger than he looks (which is good). Jim volunteers a lot at church as a deacon, assistant treasurer, 3rd-5th grade Sunday School teacher, Wednesday Kid's Club leader and webmaster (http://ebcrochester.org). Outside of church, Jim *still* is working with Rochester YFC Bible Quizzing (our 25th year!) as a quizmaster and webmaster (http://rochesterbiblequizzing.org). Since Jim really, really likes web stuff, Jim manages a couple other sites too: http://baptisthospitalityhouse.org and http://emmanuellao.org. And Jim tries not to let his full-time job at IBM interfere with the fun. Jim took Martha (#6) and a friend up to Brainerd, Minnesota to help build a church-- see the slideshow here. Jim loves kids, but loves having adult kids even more (see below)... Mary (#5) and Jim danced together in the 2009 Allegro School of Dance Nutcracker performance! When life gets boring (which is still too often), Jim watches lots of movies or steals time playing video games on Jimmy's (#3) X-Box 360... Jim also doesn't have an iPod :).
Miriam
Miriam (#1) is *still* in school, but making mom and dad very proud working her way through the totally outrageous tuition necessary to become a business and accounting double major. Miriam is living at home in the basement guest room cave where she spends most of her time sleeping, studying, reading romance anime fiction online and playing facebook games on her own wireless laptop. When not in the cave or at school, Miriam doubles as a WalMart jack-of-all-trades where no job is too tough for her. Miriam can be a checker, shoe assistant manager, softlines or jewlery counter attendant. Miriam hopes to be an accountant with WalMart someday, but I'm secretly hoping that fails since I don't want to have to travel all the way to the Arkansas headquarters to visit her. This is probably nearly Miriam's last year of school which means she will have to either live on-campus at Winona (45 miles away) or commute. This year she can still attend Winona State remotely through the Rochester Community College. Miriam graduated from Bible Quizzing as a quizzer and into a quizmaster like her dad. Miriam and Dad will both be officials at the upcoming Crown College tournament the weekend of January 16th and perhaps also at the Chicago tournament later this Spring. Yes, Miriam has an iPod :).
Maggie
Maggie is the Benson Spirit of Adventure! She has worked at more shops, sold more stuff on ebay, been the first Benson to try almost everything new and grown wiser and prettier through it all at the same time! Maggie was at one time in the past year, known city-wide as the really cute girl at the Croc's Apache Mall kiosk selling Croc's to Arabian sheiks by the dozens. Everyone in the family is now a completely sold-out Croc's wearer and most of our friends have received a half-price, employee discount pair as a gift. Maggie aspires to a graphics and design career, but the cost of schooling has made the dream hard to realize... Currently Maggie is on a long break between semesters as she gathers momentum to enter school again. Recently, Maggie started working at a four-star hotel downtown in the "MayoChester" campus as a receptionist. She even was able to be the concierge for the famous movie star Terrence Howard! Maggie has a boyfriend (Will Sherman) and he has become part of the family-- he even has his own X-Box controller for Halo and Call of Duty... Maggie lives with Grampa and Gramma Hitchcock in the basement where there is plenty of room for free spirits to breathe :). Breaking news! It looks like Maggie may also supplement her income in the coming year as a census taker for Uncle Sam. Yes, Maggie has an iPhone :).
Jimmy
Jimmy is doing as well as any post cancer victim, post kindey transplant recipient could be doing. As you may remember, Jimmy's kidney transplant in 2006 was a miracle when a donor came forward who honestly believed that she was called by God to give away a wonderously healthy kidney. Jimmy struggled for a while with some medicine schedule issues which landed him in the hospital again in 2008, but has recently been behaving well and staying healthy. Jimmy is working hard to pass his high school courses and graduate with the rest of his class this Spring. Jimmy had a job at Taco Bell, but they kinda phased him off the schedule... and Jimmy even used his kid-attraction as a giant stuffed bear at the Wacky-Bear store at the Apache Mall. Jimmy loves kids and kids seem to really love Jimmy, so this was a perfect fit so long as he could stand the heat of the huge bear head and furry body covering topped with denim bibs... Sadly, that job seemed also to evaporate so for the time being, Jimmy is surviving on a meager allowance from very patient parents. Jimmy isn't sure of his after high-school plans, but a non-technical job in the medical industry is a possibility since Mayo is in town. Jimmy is very linked in socially being a constant text-messager and myspace, facebooker. Jimmy also loves his X-Box 360 and 32 inch lcd tv he got from his "Make-a-Wish" shopping trip to the Mall of America in 2008. Jimmy's pet iguana is now about 9 years old and nearly four feet long. Luckily the creature is fairly passive-- otherwise it could easily kill us in our sleep since it has free roaming privileges throughout the house. Yes, Jimmy has an iTouch (which broke :().
Michal
Michal the quiet one uses her quietness to complement her seriously powerful wit and verbal acumen. Although quiet, Michal works very well with others and fits in with peers even older than herself. Have you seen those "word jumble" puzzles in the newspaper? Michal can whip through one of those in less than a minute. Never challenge her to a Scrabble game since your efforts will be in vain-- your loss will be painful. Michal gets outstanding marks in her English classes where her papers have even been solicited as examples to be published by her teacher. Michal works hard and saves money (this latter fact is so rare in a teen that she has been known to be teased for the virtue). Michal followed Maggie's (#2) footsteps and took a job with Papa Murphy's "take-n-bake" pizza. Michal's employee discount has fed our family gourmet pizzas weekly... I hope there is always a Benson somewhere working at Papa Murphy's. Michal is phasing out of the babysitting business, but still picks up a job now and then from the many folks who remember her outstanding rapport with kids. Michal just picked up a free car if you can believe that! Jim's co-worker at IBM moved to Austin, Texas and didn't feel like his 1993 Honda Accord was really worth selling, so he just gave it to us. Michal was the lucky one since she can afford the insurance. The Honda seems to be reliable and starts even in the coldest weather. Michal was home schooled, but now that she's in high school she has been taking classes at the local community college using the post secondary education option where she can earn high school credits from a college. It hasn't been easy, but suits Michal perfectly. If she keeps her nose in her books, Michal will also graduate from high school this year. After high school Michal isn't sure where she belongs but language and journalism have been suggested. Yes, Michal has an iTouch :).
Mary
Mary is the sensitive and compassionate dancer. Mary has that gift to walk constantly in other people's croc's... When not dancing (which is almost every night of the week) she keeps up with dozens of friends and even creates customized and personalize "hand shakes" for each one of them! Don't you dare forget your handshake or you'll be hash. Mary works hard volunteering as a baby sitter for our church ESL program and the Friday Doctors' Wives' Bible Study at another church in town. She also baby sits when anyone asks and time permits. Did I mention that Mary loves to dance? It is true! You can tell when someone loves to dance-- they dance even when not forced to-- that's Mary. Mary loves singing in the youth choir at church and uses her cell phone to record random verbalizations of song to use as her ring-tones. Not only has Mary danced in a Spring Recital and in the Nutcracker for several years now, Mary is also part of the Creccendo Dance Company which dances competitively at dance tournaments (which really keeps her on her toes! jklol)... Mary doesn't have much free time, but when she has some, you'll usually find her behind a dvd sitcom like the Cosby Show or Office. She'll play Wii Mario Party all day if she could. Mary was asked to be the principle choreographer for a local school's performance of "Annie". She did a terrific job and even earned herself $400.00 for the service! Mary is the 5th student to enter the Jim Benson School of Professional Teen Driving. She was a fast learner and graduated from the parking lot to city streets in record time. She still has some trouble backing up (everyone does), but she drives in a way that makes everyone feel safe. Yes, Mary has an iPod :).
Martha
Baby Martha is no longer "the baby", but is now a full fledged teen with a powerful attitude and a good TaeKwonDo knife-hand attack. Martha is the worlds best baby sitter, but it wasn't always that way-- only a few years ago, she was too young and too inexperienced. After motivating herself through the Red Cross certification, she quickly became the most sought-after babysitter in Rochester... Currently two different home bible studies depend on Martha to keep the kids quiet and in a far away room while relieved parents share a quiet time of fellowship and Bible Study. Martha also helps with the Friday Doctors' Wives' Bible Study at another church in town where she has a growing reputation among frantic moms. When not babysitting or singing with the youth choir at church, Martha commands kitchen utensils like a conductor to make and decorate cakes and other delectables. Martha has even attended local cake decorating classes and hopes someday to meet Duff Goldman as a cake apprentice on the Food Network's "Ace of Cakes". Martha has saved her money and collected an entire tool box full of cake decorating tools and implements. She hasn't started catering yet, but it is only a matter of time before the city learns there is another Duff Goldman in town. Martha and Dad team up (when Jimmy isn't home) playing co-op Halo fighting hoards of covenant beasts and "The Flood". Martha and Jimmy's iguana (named Ozzie) have a love affair-- Ozzie loves to chase Martha and Martha loves to run away screaming. Yes, Martha has an iPod :).
God Bless Everyone in the coming year!